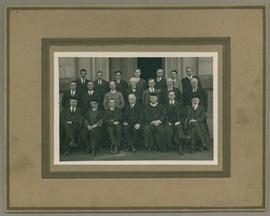 AU TAS UTAS SPARC UT/Ph-2c
Item
1924
Black and white mounted photograph of University Council members and staff taken in 1924 at the entrance to Domain House.
Back :
Dr. A. L. McAulay, Mr. H.P. Tuck, Mr. C. Malthus, Professor J.B. Brigden, Mr. J. A. Johnson, Professor Burn, Professor Copland.
Middle:
Mr A. R. Hewer, Mr. P. L. Griffiths, Colonel Thomas, Mr. E. A. Counsel (Member of Council), Mr C.C. Dudley, Mr. C. S. King, Mr. L. Rodway
Front:
Professor Dunbabin, Professor Williams, Mr. W. J. T. Stops (Vice-Chancellor),
Sir Elliott Lewis (Chancellor), Professor McDougall, Professor Flynn, Professor Lucas (Acting Professor of Mathematics).
.
University of Tasmania