Showing 3 results
Archival description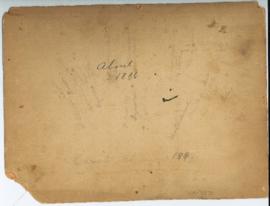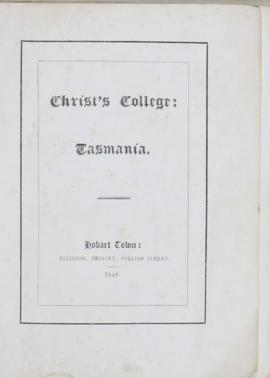 College Prospectus and Library Catalogue
College Prospectus, printed by Elliston, Collins Street, Hobart Town and dated 1848. Includes note of nature and advantages of a college, steps taken by Bishop, subscribers, trustees, Hutchins & Launceston Church Grammar schools, scholarships, Franklin Museum; Also bound into this volume is the Catalogue of the Christ's College Library, in the Diocese of Tasmania parts one & two.
Pat one lists books by subject, part two list books by author.
University of Tasmania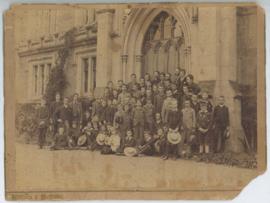 Photograph of Christ's College, (High School building) Domain
Sepia photograph of a group of boys and masters outside the college door, including small boys, some in sailor suits holding straw "boater" hats.
Photo by Wherrett & McGuffie, mounted.
Some names written on back, including Alic Cruickshank, Cyril James, A Murray, B. Hunt (master), Max Stephens, Reynolds, Gosnell (master), R. Stourton, Lilley.