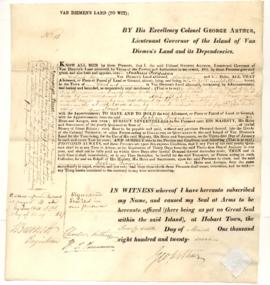 Grant of land at 31 Campbell Street, Hobart to Joshua Fergusson
AU TAS UTAS SPARC 2017/2
Collection
1827-03-26
Grant of land at 31 Campbell Street, Hobart to Joshua Fergusson made by his Excellency Colonel George Arthur Lieutenant Governor of Van Diemen's Land on the 26th day of March 1827. Subject to the payment of a yearly quit-rent of two pounds payable on the 31st day of January each year.
31 Campbell Street is the site of the University of Tasmania's major creative industries and performing arts development, 'The Hedberg', adjoining Hobart's historic Theatre Royal on the 'Wapping 4' site. The University of Tasmania opened at the Hedberg in Semester 1, 2020 after almost 10 years in conception, consultation, planning and construction stages. The project was led by Tasmanian firm Liminal Architecture and designed in collaboration with WOHA and Arup.
The significance of the Hedberg site in the heart of Wapping dates to the 1830s, when it was a lively convergence of working-class homes, industry and entertainment. Archaeological work was undertaken in consultation with the Tasmanian Heritage Council, and results from the archaeological investigation informed aspects of the design.
The heritage-listed facade of the Hedberg Brothers Garage on Collins Street is the University of Tasmania entrance at the Hedberg. Built in 1925, it has intrinsic heritage value as an early, unusual and important example of its type.
Colonial Secretary, Van Diemen's Land